One of my big tasks upon arriving at SUA was to help develop their new interdisciplinary Life Sciences concentration. Soka University is an amazing and interdisciplinary liberal arts university, with a mission to "foster global citizens dedicated to living a contributive life." We wanted to add Life Sciences as a fifth concentration, after the existing concentrations that include Social and Behavioural Sciences, Environmental Studies, International Studies and Humanities. The new concentration needed to be true to Soka University's mission and values, and consistent with its innovative and interdisciplinary approach.
The existing science faculty at SUA were providing excellent courses as part of the General Education and the Environmental Studies programs at SUA. They included Phat Vu (Physics), Robert Hamersley (Molecular Biology), Zahra Afrasiabi (Chemistry), Lisa Crummett (Biology) and Anthony Mazeroll (Biology). When I arrived I worked closely with this group of faculty to develop a plan for expanding their blueprint for the concentration and consulting with top experts in the field to help design the new Life Sciences curriculum in a way that represents the state of science and science education in 2020. The unique chance to build the concentration from scratch allowed us the chance to leverage the decades of knowledge and experience in improving STEM education to be more inclusive and interactive, and also to shift the curriculum to focus on emerging areas of vital interest to biology and chemistry, and to include more Project Based Learning and active learning throughout the curriculum.
To start the process, we developed a Science Advisory Board that included top scientists and academic leaders from Stanford, the Claremont Colleges, National University of Singapore, and Duke University. Our group of SUA constituted our Life Sciences "Task Force" and we met throughout the year of 2017-18 to discuss with the Science Advisory Board and with each other how we will develop our curriculum, and also how the Life Sciences concentration will complement SUA's existing concentrations and programs. A series of three Life Science Symposia were organized in 2018 which allowed groups of outside advisors and our SUA science faculty to meet with the Soka community and share what we learned and to also field questions and get inputs for our design of the Life Sciences concentration.  From the year of discussion and planning came our Life Sciences Planning Report, which gave an overview of the Vision for Life Sciences, the process for consulting with our Advisory Board, and the key features of the new Soka University Life Sciences curriculum. More details about these topics are below, along with links to our Life Sciences faculty who joined us during 2018-19 and 2019-20.  We hired four amazing new full-time faculty to our Life Sciences concentration, who include Susan Walsh (Molecular and Cell Biology, formerly from Rollins College), Marie Nydam (Marine Biology and Genomics, formerly from Centre College), Nidanie Henderson-Stull (Biochemistry, formerly from Amherst College) and Robert Levenson (Biochemistry, formerly from UCSB). We also were joined by Bob Moyzis, who serves as a Distinguished Visiting Professor (Biochemistry, formerly from Los Alamos Genomics lab, and UC Irvine Medical Center).
More details about the development process is below, along with a beautiful photo of our 91,000 square foot Life Sciences building. Our new concentration, with its eight wonderful full-time and one amazing visiting faculty members, is opening in Fall 2020, along with our new building. We already have about 50 students interested in sciences, between the classes arriving in 2020 and the class that arrived in 2019. It has been a very exciting project – and I am delighted to see the Life Sciences concentration come online this year! In March 2019 we published the SUA Life Sciences Planning Document which summarizes our development of the concentration in more detail.
Below – the home to our new Life Sciences Concentration at Soka University – the magnificent 91,000 square foot Curie Hall, opening in 2020.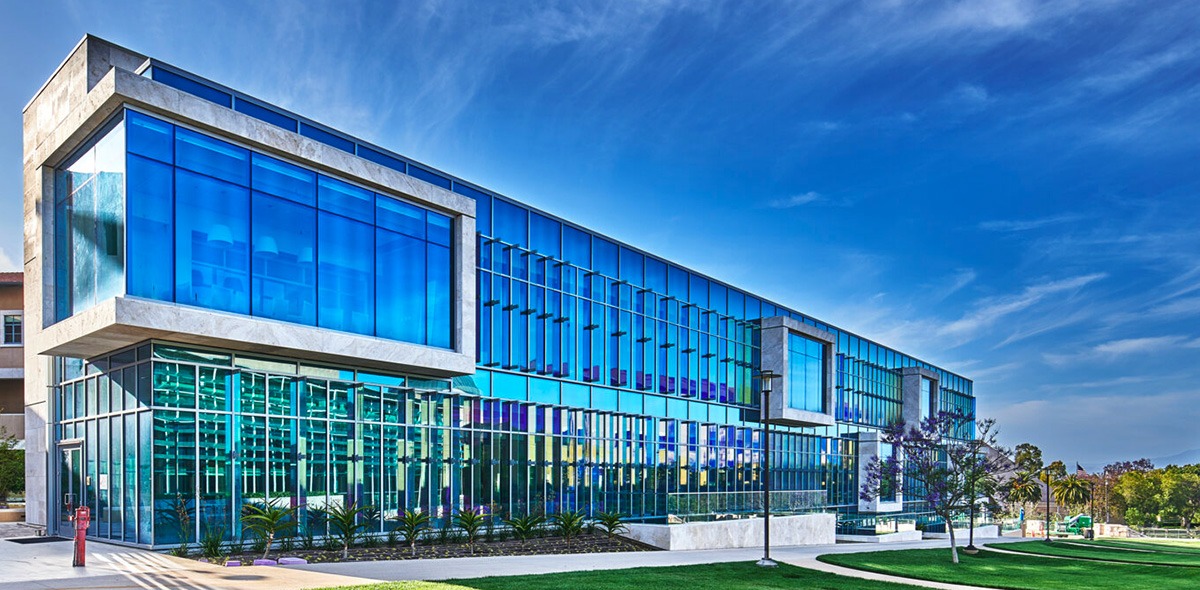 ---
Vision for Life Sciences Concentration at Soka University
During our planning year of 2017-18, we developed the following "vision statement" about the program that was included in our Life Sciences report:
The Life Sciences Concentration at Soka University will offer a rigorous curriculum that provides a solid foundation in the sciences, including courses that embody the latest emerging discoveries in biology and chemistry, and a student-centered pedagogy that challenges students to apply what they have learned. The BA in Liberal Arts with a concentration in Life Sciences will feature inquiry-based learning through student-led experiments, giving valuable research experience on topics of interest in current scientific research. The Life Science curriculum will also be integrated with Soka University's innovative Core and General Education curriculum and will prepare well-rounded students that are more than technically proficient and scientifically knowledgeable. The curriculum will enable students to help develop scientific breakthroughs in the Life Sciences that will enhance the sustainability of our planet and promote human health, and to encourage ethical uses of technology that incorporate Soka University's core values of peace and global citizenship.
The SUA Life Sciences curriculum has been designed by Soka University faculty and staff in consultation with some of the world's leading experts in biology research, education and medical education through a Science Advisory Board, who have met with the Soka University faculty and shared their insights with them as they develop key elements of the new Life Science Curriculum.
---
Key Elements of the SUA Life Sciences Curriculum
In our planning year we outlined the following courses as key parts of our introductory curriculum in Life Sciences. The curriculum was designed to offer an efficient, interdisciplinary and cutting-edge introduction to the most relevant parts of biology, chemistry and physics for students graduating from SUA into the new world of Life Sciences and should prepare them for a wide range of fields.
Below in outline form are some of the key elements of the new Life Science curriculum at Soka University of America.
Foundations of Chemistry Course. A new introductory chemistry course will begin project-based learning from the first semester, with our students taking charge of synthesising molecules relevant to research in cancer in their first semester. The lab will be integrated with the course, and will progress sequentially into more sophisticated skills than are usually developed in a first-semester Chemistry course.
Integrated Biology and Chemistry Course. A new innovative interdisciplinary course will integrate the first-year course in chemistry and biology and will teach students greater efficiency and develop increased understanding in essential concepts in both subjects. The Integrated Biology and Chemistry course will be based on a research-based theme, with some features patterned after a similar course developed at the Keck Science Department in Claremont, based on discussions with Science Advisory Board member Emily Wiley and others.
Interdisciplinary Project-Based Laboratory Courses. By developing a 3-unit inquiry-based laboratory course as a separate course, students will experience a more authentic learning environment that includes the authentic processes of scientific research than would be possible in a more typical 1-unit laboratory course. This course would be patterned after the new Stanford Biology laboratory courses and will let students design experiments and solve research problems over several weeks. The laboratory course will explore topics spanning multiple disciplines, such as Physics and Biology, or Biology and Chemistry. The course would feature a mix of in-class experiments, and independent work by students to acquire background, analyze results, and prepare presentations of results using techniques used in actual scientific research.
Single Semesters of Organic Chemistry and Biochemistry. An alternative to the traditional year-long organic chemistry sequence is a semester of Organic Chemistry followed by a semester of Biochemistry. This combination is now favored by leading undergraduate institutions for preparing pre-medical students and provides more background biochemistry which is critical within modern biology.
A New Physics for Life Science course. Rather that offering a physics course to prepare engineers or future physicists, our new Life Science concentration will develop course that will feature applications of physics in biological contexts. This course could fulfil the pre-medical physics requirements and prepare students for the MCAT, while also providing very interesting examples of physics in action within organisms.
In addition to these innovative curricular elements, the new Life Science concentration will feature advanced elective courses in many of the cutting-edge fields of modern Biology, and may offer courses in fields such as genomics, neuroscience, immunology and molecular biology, based on the expertise of our Soka University faculty.
---
Soka University Science Advisory Board Members and Specialties
Our Science Advisory Board met with our SUA faculty during 2017-18, and helped provide ideas and inputs to our planning for the Life Science curriculum and our hiring plan. Below is a description of the Advisory Board and some of the details of their work. We look forward to inviting many of them back to campus as we open our new building in 2020!
David Oxtoby, Chemist – Former President of Pomona College, and former President of Harvard's Board of Overseers; now based at Harvard. David is an expert on undergraduate education and is also the author of one of the most widely used Chemistry textbooks.
Andrew Endy, Bioengineering, Stanford University – Professor of Bioengineering at Stanford,  Drew is the Founder of the BIOFAB and IGEM groups, and one of the world's leading synthetic biologists.
Elizabeth Orwin, Biomechanics, Harvey Mudd College – Biomechanics expert, and Chair of Harvey Mudd Engineering, Liz is an expert on experiential learning and linkages between Life Science and Biotechnology.
Emily Wiley, Biology, Keck Science Department – Professor of Biology at Scripps/CMC/Pitzer Colleges Keck Science Department, Emily is one of the leaders of the Keck Science curriculum development effort that has produced accelerated introductory science sequences that merge the disciplines of Physics, Biology and Chemistry.
Bob Kamei, Medical Education/Learning Science, NUS – Associate Provost, National University of Singapore, and former Professor at the Duke-NUS Medical School, Bob is one of the founders of the educational program at Duke-NUS, and developed new forms of Team Based Learning and assessment within the Duke-NUS program that is being emulated worldwide.
Martha Cyert, Stanford University – Biology Professor at Stanford University, Martha is a leader in reshaping Stanford's undergraduate Biology curriculum and a leader of BioX, one of the most innovative interdisciplinary biology programs at Stanford.
Brian Greene, Columbia University – Physics Professor at Columbia University. Brian is a well-known author and speaker, as well as a leading physicist in string theory. Brian's skills as an interpreter of science and the intersections between science, philosophy, music and the arts will be very powerful in shaping our vision of the Soka University Life Science curriculum.
Timeline for Life Sciences Planning at Soka University 2017-19
Through a series of in-depth discussions with the Science Advisory board, which included public presentations for the Soka University community, key elements of the curriculum and a strategy for hiring new faculty emerged. Below is an outline of the key events in shaping the Soka University Life Science curriculum during 2017-18.
Life Science Symposium I: December 12, 2017: Liz Orwin, Emily Wiley, Martha Cyert.
Half of the Science Advisory Board attended our first event, and a public symposium enabled them to present their perspectives on biology education and curriculum.  The meetings featured discussions of leading biology programs at the Claremont Colleges and at Stanford University.
Life Science Symposium II: January 16, 2018: Drew Endy, David Oxtoby, Bob Kamei
During this event the other half of our Science Advisory Board attended Soka University, and also presented at a public symposium their perspectives on emerging frontiers of biology, medical education and science in liberal arts colleges.
Medical and Pre-Medical Education Symposium – April 18, 2018:  Bob Kamei, M.D., Linton Yee, M.D., and Dr. Richard Lewis
Medical education experts from leading medical schools has convened with the Task Force to discuss requirements for admissions into Medical School, and other aspects of Medical Education. These discussions included discussions with Bob Kamei, M.D., (NUS, formerly Duke-NUS Medical Center and UCSF Medical School), Linton Yee (Duke Medical School Professor and Admissions Chair), and Richard Lewis (Professor of Neuroscience and pre-medical advisor at Pomona College).
Brian Greene – Dialog on Science, Creativity and Reality – February 13, 2019
During the Dialog on Science, Creativity and Reality, we featured Brian Greene and Gabrielle Starr, President of Pomona College, in a series of discussions with faculty and students culminating in a large public event with Brian Greene in our Performing Arts Center. Within the discussions we explored how perspectives in science can inform deeper inquiries in humanities, the arts, and social sciences, and ways that our Life Science Concentration can complement our other Concentrations, Programs and Areas at Soka University.
First Round of Life Sciences Faculty hired – Spring 2019
After a very competitive nationwide search, SUA is delighted to have hired our first two tenure-track faculty in the Life Sciences concentration. Susan Walsh accepted the offer to join SUA as an Associate Professor of Molecular and Cell Biology, and Marie Nydam accepted the office to join SUA as an Assistant Professor of Biology. Robert Moyzis accepted the offer to join SUA as a Distinguished Visiting Professor of Biological Chemistry. More information on these new faculty members, and our continuing SUA science faculty who are joining the Life Sciences concentration can be found on our Life Sciences Faculty Page.
---
Timeline for Life Sciences Concentration 2019-20
New Faculty Workshop – September 4, 2019
Workshops and discussions introduced our new faculty to our colleagues and we offered series of workshops on syllabus design, grading and our GE curriculum. A lunch discussion with all of the faculty updated everyone on our progress with the new concentration and some of our plans for the coming year.
Retreat for Life Science planning – September 27, 2019
An afternoon retreat allowed for an in-depth discussion of our curriculum design efforts for this year, some of the upcoming faculty enhancement events for STEM and other faculty, plans for the opening of our Life Science concentration in Fall 2020, and our efforts for developing grants for external funding. Our teams of faculty designing our Life Science courses discussed their initial plans for the courses offered next year. The courses and faculty members developing them are listed below:
Project-Based Laboratory Course – Lisa Crummett and Marie Nydam
Integrated Biology/Chemistry Course – Susan Walsh and Zahra Afrasiabi
Physics for Life Science Course – Phat Vu (for next academic year)
Carl Wieman workshop on science teaching –  T/Th Oct. 2-22, 2019
Seven of our SUA faculty are participated in a mini-course on the latest techniques of effective teaching from Carl Wieman, Nobel Laureate and director of the Stanford University Carl Wieman Science Teaching Initiative. Our SUA faculty joined faculty from across the country in this exciting synchronous online course, offered October 3-22. Our participating faculty had an amazing experience working with Carl Wieman at Stanford, along with faculty from Cornell, Oregon State and other major universities.
Life Science Concentration Director Nominations and Elections – late October, 2019
Susan Walsh was elected as the inaugural Life Sciences concentration director, and began serving in Fall 2019.
Biochemistry Searches – late Fall Semester 2019
In 2019, we successfully filled two positions for Assistant Professor of Biochemistry. We are delighted to welcome Robert Levenson and Nidanie Henderson-Stull to our academic community!
Science building opening and dedication – AY 2020-21
We will be celebrating the opening of our new Science Hall, which has been named Curie Hall in honor of Marie Curie, some time in the coming academic year. We hope that some of our Science Advisory Board members can join us.
Other Events for 2019-20 – Global Public Health Speaker Series
During the 2019-20 year we featured a series of speakers and discussions on public health led by a team of faculty from across campus, including faculty who have expertise in Biology, Sociology, Anthropology, and Urban Planning. We also look forward to additional talks on Diversity in STEM and other vital topics related to the new science concentration.